SWITCHBOARD UPGRADES NORTH LAKES, KALLANGUR & BRISBANE'S NORTHSIDE
Looking for help with Switchboard Upgrades Brisbane? Well contact the switchboard upgrade experts, JNA Electrical QLD! Wondering why switchboards are so important? An electrical switchboard is the nerve centre of you homes electrical system. Do you know the difference between Fuses / Circuit Breakers and Safety Switches (RCD's)? A fuse or circuit breaker is there to protect the assets, being cables, power outlets and lights in an over-current situation – but it doesn't protect people in fault situations. Safety switches are designed to protect people and turn the power off quickly when they detect a small current flow from live conductors to earth in fault scenarios and they are proven to save lives.
Lots of older houses still have the older style fuse-wire switchboards. When a circuit becomes overloaded the fuse wire melts and stops the flow of electricity to the circuit, protecting your wiring and minimising your risk of electric shock. While fuse-wire may be effective if installed and maintained correctly, it is an outdated method that needs to be replaced to comply with the Australian Standard AS3000. Fuse wire can take several minutes to melt which is enough time for a fire to start also.
JNA Electrical QLD has installed hundreds of electrical switchboards and can provide you with the right advice to keep your electrical system safe and reliable.
JNA Electrical QLD can also install timers into your switchboard for use with electric storage hot water systems so you are getting the best use of your solar generation and further reducing your power bills. We can also install other items into switchboards like surge protection. When a power surge hits your house it tends to affect the electronics in your house. When these surges hit it normally involves some heartache in replacing items and it is costly. So why not install surge diverters to give you some extra protection.
SWITCHBOARD ELECTRICIAN NORTH LAKES & BRISBANE'S NORTHSIDE
Electrical switchboards are command centres that control the electrical system of a property so when it comes time to look for a switchboard electrician in North Lakes, Kallangur or Brisbane's Northside contact our team. Old homes are often outfitted with ageing fuse-wire switchboards that need to be upgraded, so, when in comes time replace the ageing switchboards in your home with one that belongs in the 21st century give us a call on 0439355405.
SERVICE LOCATIONS
Switchboard Upgrades Kallangur
Switchboard Upgrades Brendale
Switchboard Upgrades North Lakes
Switchboard Upgrades Strathpine
Switchboard Upgrades Cashmere
Switchboard Upgrades Burpengary
Switchboard Upgrades Lawnton
Switchboard Upgrades Griffin
Switchboard Upgrades Mango Hill
Switchboard Upgrades Petrie
Switchboard Upgrades Warner
Switchboard Upgrades Newport
Switchboard Upgrades Joyner
Switchboard Upgrades Margate
Switchboard Upgrades Kurwongbah
Switchboard Upgrades Murrumba Downs
Switchboard Upgrades Narangba
Switchboard Upgrades Woody Point
Switchboard Upgrades Dakabin
Switchboard Upgrades Bray Park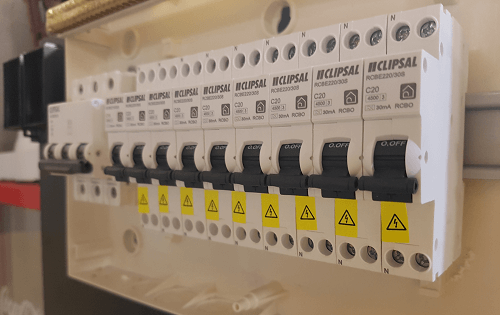 Why choose us when you need
assistance with Switchboard Upgrades Brisbane or switchboard maintenance?
JNA Electrical QLD has both upgraded and installed countless  switchboards which makes us the perfect company to provide you with the right advice when it comes to keeping the electrical system of your home safe and reliable!
We are specialists in all things switchboard related so whatever your needs are speak with with our friendly team first to find out more information about how we can help!
Our team of qualified electricians and technicians offers high quality and
cost-effective electrical solutions.
We know industries never sleep which is why we offer 24/7 emergency on-call
services to all of  clients. All they need to do is give us a call!
Areas We Service
Looking for switchboard replacement or switchboard repairs in North Lakes or Brisbane's Northside? JNA Electrical QLD are available 24/7, providing a wide range of electrical services that home and business owners alike have come to rely on.
We specialise in the supply, installation and maintenance of all your electrical and lighting requirements. Should you require an emergency electrician, we offer a 24-hour emergency service, contact us here  or just call 0439355405